Whether you are coming to Asheville for the challenge of the Gran Fondo on your road bike or if you enjoy a more casual mountain bike experience in the many mountain trails throughout Asheville, we have many bike trails for you to enjoy during your biking adventure in Asheville.
During the summer months, road bikers share the Blue Ridge Parkway with vehicles. With endless hiking trails and waterfalls, your bike will bring you through breath taking scenery. If you are a mountain biker, our area if filled with opportunity and challenging trails. Lastly, if you haven't road a bike in years but would like to experience some of the beautiful scenery in Asheville, rent a bike and see what all the excitement is about!
Shown below are some of our favorites.
Mountain Biking Trails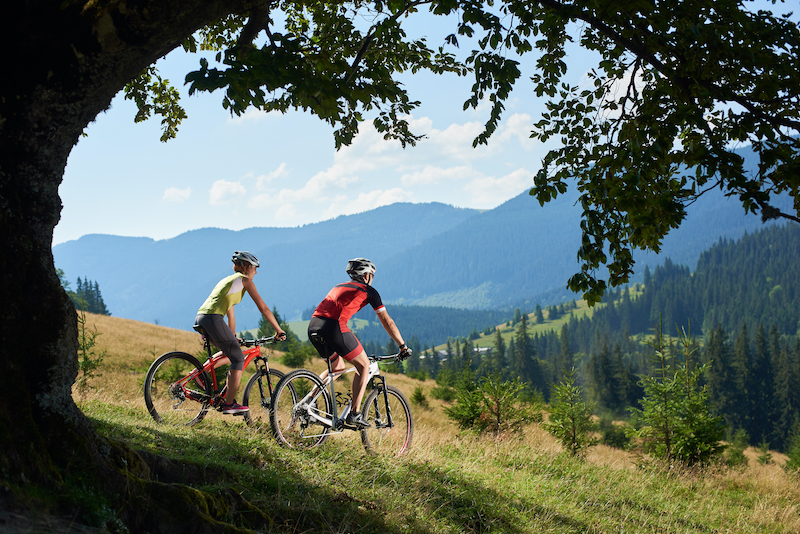 Are you a beginner wanting to practice your skills or an experienced rider looking for your next mountain bike challenge? Check out these top mountain biking trails:
Pisgah Area SORBA Beginner's Loop in Bent Creek 6.2 mile loop- perfect for beginners wanting to learn on small jumps and roots.
Fire on the Mountain in Cherokee 5.2 mile loop- featuring 737 feet of climbing and descending with plenty of berms and switchbacks making for a fun ride for advanced beginners and intermediate riders.
Dupont Forest in Brevard 18.2 mile loop- This tour of DuPont State Forest is rated intermediate due to its length and approximately 2,000 feet of climbing. The ride features an easy warm-up, some smooth singletrack and several fast descents punctuated by rock gardens.
Kitsuma/Heartbreak in Black Mountain 37.4 mile multi loop – A figure eight loop to get your adrenaline pumping that is a brutal ride for experienced bikers
Black Mountain Loop in Pisgah Forest 35 miles- this trail will give you a taste of the full range of technical challenges for which Pisgah National Forest is known.
Pisgah Long Tour in Pisgah Forest 26.6 mile one way- An all-day adventure tackling two of the most challenging downhills in Pisgah
Road Biking
The Blue Ridge Parkway, known for its beautiful panoramas of the Blue Ridge Mountains and surrounding valleys, provides the perfect backdrop for road biking enthusiasts. This year the Gran Fondo Asheville on July 18th passes right by the entrance of our inn. Check out a previous blog for everything you need to know about your Asheville Road Biking Adventure.
Leisure Biking Trails
When visiting the Asheville area everyone thinks of our Biltmore Estate. After your tour of America's largest home, rent some bikes on the property. It's a wonderful way to experience the beautiful gardens and trails that the estate has to offer. You can learn more about renting your bike here.
Here are some of our other favorites:
French Broad River Greenway in Asheville 3.5 miles- The French Broad River Greenway links three of Asheville's parks: Hominy Creek River Park, Carrier Park, and French Broad River Park.
Glenn's Creek Greenway in Asheville 1 mile-This trail stretches between Weaver Park and Broadway Street and connects to the Botanical Gardens.
Oklawaha Greenway in Hendersonville 3.5 mile This beautiful trail winds through wetlands, meadows and forests to connect four parks.
Come stay with us
Our mountain lodge is just a few miles from the Blue Ridge Mountain Parkway. Come and experience our Farm Direct Dining, curated wine and craft beer with bountiful breakfasts. All of our rooms have beautiful views of Elk Mountain from your private balconies with wood burning fireplaces. Book your stay with us today and experience the "Best Stay In Asheville"