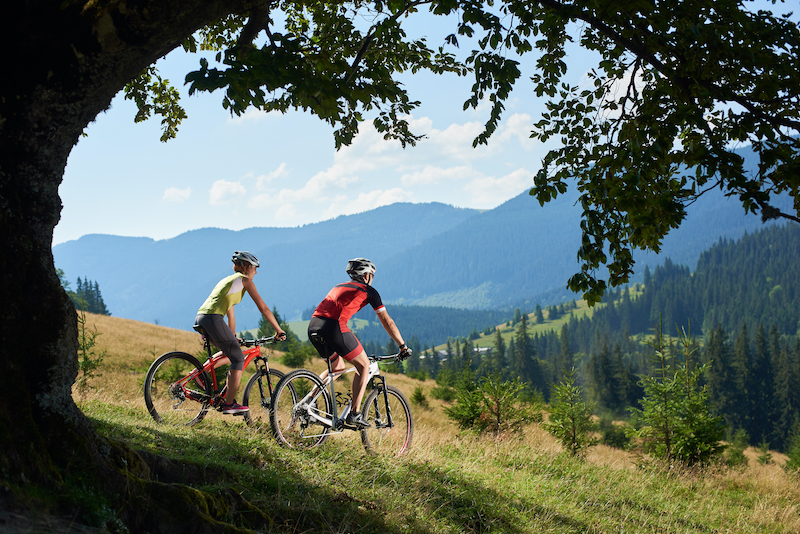 A Road Biking B&B in Asheville
Cycling is the Goldilocks of travel. Walking on two feet – too slow. Driving on four wheels – too fast. Taking in the scenery and fresh air on two wheels – just right!
For those who love biking, the Asheville, NC area is also just right. From challenging climbs on the Elk Mountain Scenic Highway to more laid-back bike rides along the Blue Ridge Parkway, not to mention the hundreds of miles of single track available – biking in Asheville is a cyclist's dream come true.
---
Road Biking Routes in Asheville
Elk Mountain Scenic Highway
We may be partial, but our favorite route is the gorgeous Elk Mountain Scenic Highway. This 60-mile road cycling route has been called the quintessential road biking experience in Asheville. And it's no surprise when you consider that along with challenging elevation gains comes stunning views of the Blue Ridge Mountains and the valleys below. If you find yourself needing a breather, Buzzard Rock overlooks Beaverdam Valley and makes a nice breakpoint in the ride.
Sourwood Inn is located along the highway! Stop by anytime to say hello, or even better, stay with us while you cycle around.
Level of Difficulty: Challenging
The Blue Ridge Parkway
You can't talk about biking in Asheville without mentioning the Blue Ridge Parkway. Although the parkway is famous for being 'America's Favorite Drive' it's also a favorite ride for many cyclists. The paved parkway itself is a moderately challenging ride, but it also serves as the backbone for other routes. You can stick to the Blue Ridge Parkway or hop off and join another route – just check out a map! The options are endless.
It's important to remember that when biking along the parkway you are sharing the road with motorists, many who are distracted by the glorious scenery. Be careful out there!
Level of Difficulty: Moderate
French Broad River Greenway
A pleasant 2.8-mile ride that introduces you to three Asheville parks – French Broad River, Carrier, and Hominy Creek. The French Broad River Greenway is the perfect way to see the river and interact with locals enjoying their greenspace. The ride follows the river through the parks and a wooded area, as well as a few residential sites. Want to pack a picnic and eat along your ride? The greenway offers multiple places to sit along the river or you could even take advantage of the picnic pavilions at Carrier Park.
Level of difficulty: Easy
---
Helpful Biking Maps
Cycling in Downtown Asheville Map
Asheville Cycling Trails from MapMyRide
Interested in finding other popular bike routes in Asheville, or want to map out your own plans? Check out the Asheville, NC page on BikeMap.com
Bike Repair and Bike Rentals
The locals have spoken! Every year the residents of Western North Carolina vote in the 'Best of WNC' poll put out by Mountain Xpress. Included in the voting categories are 'best bike repair' and 'best bike shop'. Year after year, the following businesses rise to the top.
*Note: All of the cycling shops listed below repair and service bikes. They also rent out bikes! So, if you find yourself without a bike, or with a bike in need of service, the experienced staff at any of these businesses can take care of you.
Founded in 1980 by locals Mike and Claudia Nix with the mission of putting more people on bikes. They offer a great selection of bikes, clothing, and accessories. Voted one of America's Best Bike Shops by the National Bicycle Retailers Association.
Founded in Sylva, NC in 1986, and opened a second store in Asheville in 2010. A third store is scheduled to open in Cherokee in May 2018. A very large selection of bikes and equipment.
Founded in 2006 by Youngblood Haske, a former road racer, and NYC bike messenger. The shop sells a broad selection of bikes and a wide variety of bicycle accessories. The knowledgable staff focuses on high-quality service.
Asheville Bicycle Company is a part of the Ski Country Sports family. Ski Country Sports began in 1990. In 2015, the bike portion of the shop broke off into Asheville Bicycle Company. The shop boasts one of the largest service centers in Asheville and the surrounding area.
---
Biking Bonuses
Two things that Asheville can offer that other great biking towns can't – our farm to table food culture, and craft beer breweries.
Cycle to Farm is a simple but brilliant concept: cycle, eat, repeat! This is the perfect trip for the cyclist who is also a foodie. It is also a way to support local farms and agritourism.
What you can expect:
2 to 10 riders
They customize the length of the route specifically for you and your group, offering routes from 20 miles to 62 miles.
You will ride from farm to farm tasting samples prepared by the farmers. Any purchases made will be carried in a van while you ride.
The Asheville Ale Trail Bike Tour 
Bikes and beer – you can't get any better than that! The Asheville Ale Trail is a great way to see some of our most eclectic areas: West Asheville, the River Arts District, and the Brewery District (the South Slope).
Breweries along the route:
Altamont Brewing
Hi-Wire Brewing
Oyster House Brewing
Urban Orchard Cider
Wedge Brewing
See more Asheville breweries plus wine and cocktail lounges on our Asheville page.
As you can see, there is so much opportunity for fantastic cycling in Asheville! We hope that you will stay at Sourwood Inn and share your favorite riding routes and tips with us. We are always keen to add to our list of favorite excursions!
What are you waiting for? Call Sourwood Inn today to book a stay at a biker's paradise!