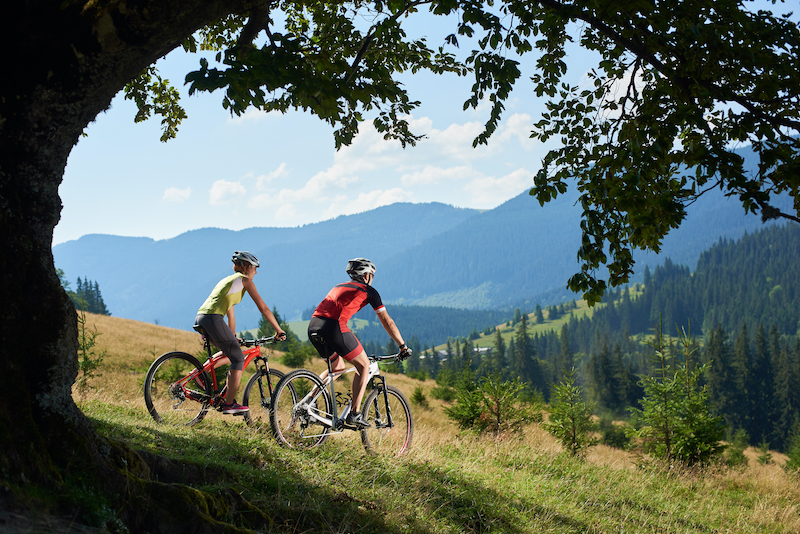 Many of Asheville's treasures are found in the great outdoors! There is something very special about our thriving mountain community that is the ultimate outdoor playground for your outdoor activities.
.Visitor's can imagine what it's like to live in the lap of luxury as a Vanderbilt and enjoy the wide diversity of outdoor adventures that are available within our mountainous terrain. Those looking to take in some fresh mountain air can hike sections of the Appalachian Trail or, for the more adventuresome book a Zip Line Adventure. For those looking for outdoor relaxation, go on a waterfall hunt and relax with a picnic beside one of our many beautiful rivers that feed the waterfalls.
Read on to discover nine of our favorite Outdoor Activities in Asheville. These activities feature natural beauty along with some history for an unforgettable active and healthy Asheville getaway. We all need a little adventure in our lives, and we are here to help you plan your next Asheville adventure while staying at the Sourwood Inn.
!
Top 9 Outdoor Activities In Asheville
1. Hiking
Asheville is known for it's hiking trails. Check out this link for details about some of the more popular trails. We love the Craggy Garden Trail which is close to the inn and makes for a great morning hike.
2. Fly Fishing
Haven't you always wanted to learn how to fly fish? it's definitely a skill worth learning. Our friends at Curtis Wright Outfitters will make your fishing dreams a reality! Our region offers an abundance of trout and Smallmouth Bass fishing against a backdrop of majestic mountains, forests, and freestone rivers and streams. Just let us know and we can book your 1/2 day fishing adventure.
3. Falconry
Peter Kipp and Jeff Curtis from Curtis Wright Outfitters are both licensed falconers with over 40 years of combined experience. The two of them have a passion for this ancient art that they love to share with others. There is nothing like handling and flying a bird of prey and seeing these magnificent creatures up close. Let us know and we can book this experience for you.
4. Ride the Railroad
The Great Smoky Mountains Railroad offers scenic train excursions through the North Carolina mountains along Nantahala and Tuckasegee Rivers.. All of the train rides depart from the depot in downtown Bryons City which is a little over an hour drive from the inn. It's an old fashion experience and a wonderful way to see the mountains of North Carolina.
5. River rafting and tubing
For all of our White water rafting enthusiasts check out the professionals at this site to choose your location. We love to tube on the French Broad River which runs right through Asheville with tubing available, and the white water rafting section is about 30 – 45 minutes north of town.
6. Visit the Biltmore gardens
If you are visiting Asheville you MUST visit the Biltmore. For outdoor enthusiasts you may want to purchase the garden tickets which allows you access to the beautiful hiking trails on the property. Check out a previous blog which highlights details not to be missed on the estate.
7. Waterfall Hunt
We at Sourwood Inn love our waterfalls! Thankfully we are blessed in Asheville to have so many. Check out our recent blog to decide which waterfall is on your waterfall hunt this visit.
8. Zip-lining
O.K. we must admit it does take a little courage to Zip line. but afterwards you'll be so glad you did. Check out our friends at Zipline where you will zip-line from tree-to-tree, cross sky-bridges and descend ropes in true Appalachian forest on a one-of-a-kind eco-journey through Moody Cove.
9. Biking
Biking opportunities are endless in Asheville. Check out this site for mountain biking trails or consider renting bikes at the Biltmore and see all the beautiful train, gardens and forests within the estate.
10. Horseback Riding
Seeing mountain vistas and waterfalls via horseback is quite the experience. We love to recommend the stables as Pisgah Forest for the mountain experience and Biltmore for the estate experience.
Come stay with us at the Sourwood Inn
You'll find the Sourwood Inn a perfect mountain retreat after your day of exploring the wonderful outdoor activities near Asheville. We offer twelve guest rooms and a hideaway cottage that are perfect for a restful night's sleep. During your stay, you will also enjoy our daily breakfast buffet and afternoon refreshments. We serve dinner at the inn from Thursday through Sunday with a Farm Direct philosophy and a thoughtful curated wine list.
Check out our availability to start planning your trip at the Sourwood Inn where you'll find:
Fine lodging and farm direct Dining on Elk Mountain